Check your local recyclability facilities to find out more, not recyclable in all communities.
100% recyclable pods

bpa free

made in the usa
Roast Types
Levels
-
Maud's Holiday Flavored Coffee Pod Variety Pack
About
Maud's Winter Flavored Coffee Pods Holiday Variety Pack (6 Blends) - 42 Pods
This limited edition holiday flavor variety pack comes in a 42ct box and each pod comes with a festive holiday lid! 
Mint Chip: Maud's "Frosty's Mint Chip" Coffee is a delicious combination of fresh roasted arabica beans and fresh mint flavor creating a decadently drinkable and refreshing new coffee experience. This crisp minty flavor that can be enjoyed all day.  

Holiday Spice: Maud's "Holiday Spice" The holidays are upon us, and that usually means lots of time in the house whipping up traditional holiday coffee flavors that call for traditional holiday spices such as cinnamon, cloves, nutmeg, ginger, anise, allspice, and cardamom.
Cinnamon Sugar Cookie: Maud's "Cinnamon Sugar Cookie" has a deep dark sugar flavor and rich vanilla notes.
Merry Cherry:  Maud's "Merry Cherry" can also be described as being sweet, woody, rose-like and lemony.  Cherries often are paired with spicy ingredients and now the holidays!
Gingerbread: Maud's "Gingerbread Spice It Up" Gingerbread refers to a broad category of baked goods, typically flavored with ginger, cloves, nutmeg or cinnamon and sweetened with honey, sugar or molasses.
Pumpkin Spice: Maud's "It's The Great Pumpkin, Mrs. Brown" a warm, delicious flavor of spices including cinnamon, nutmeg and clove along with a touch of other delicious spices. 
Grab a box now as supplies are extremely limited & going fast! Happy Holidays!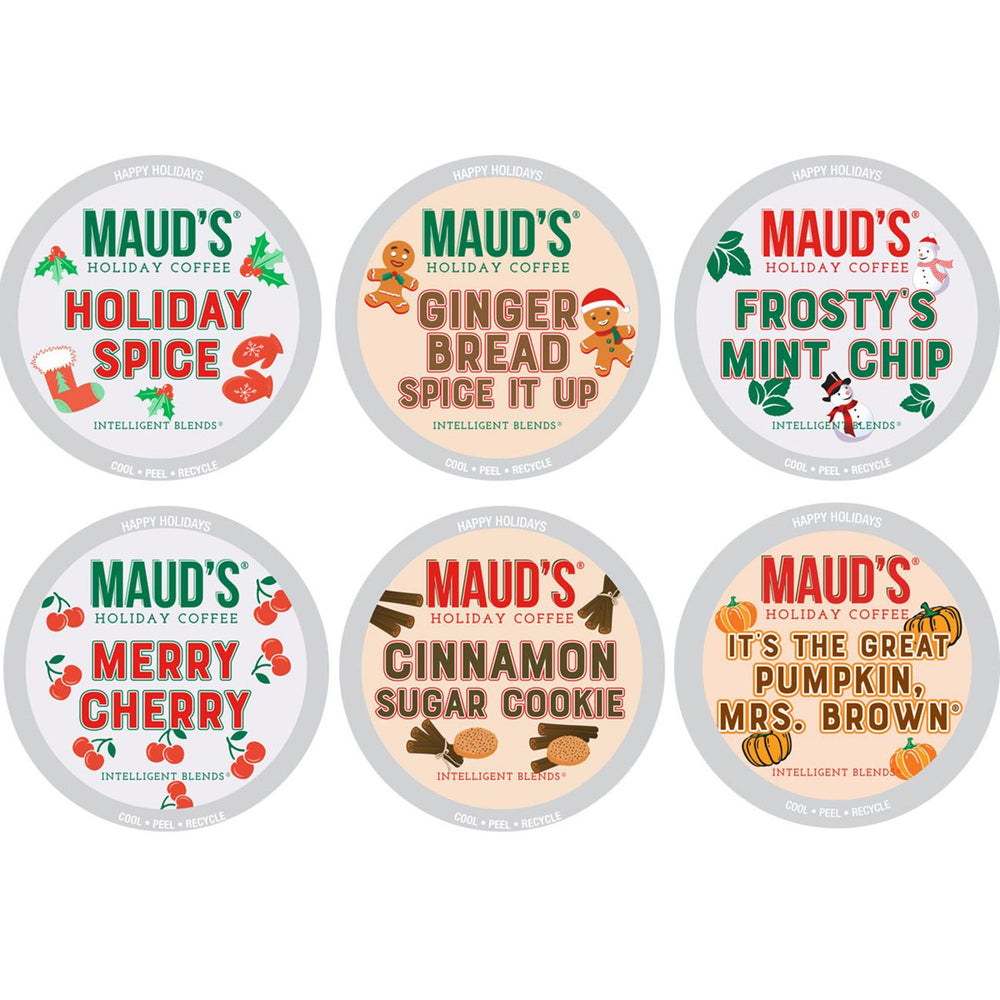 So Much to Love…
We Are Family
From our flagship Maud's Coffee & Tea line to our popular Roastmaster Reserve, Oriente Cuban and World's Best Half-Caff™ blends, our family of brands offers something special for every taste and every mood… every time.
Gourmet Coffee Pods
Gourmet 100% Arabica coffee beans are carefully roasted by our 5th Generation Roastmaster then packed into our Recyclable single-serve pods. Fresh ground coffee beans are nitrogen flushed, expelling all oxygen and sealing in the freshness to be enjoyed one great cup at a time!
BEVERAGES BACKED BY OVER 100,000 REVIEWS & MILLIONS OF HAPPY CUSTOMERS
Meet Your New Favorite Blends