Check your local recyclability facilities to find out more, not recyclable in all communities.
100% recyclable pods

bpa free

made in the usa
Roast Types
Levels
6
Maud's Holiday Blend Medium-Dark Roast Coffee Pods
About
Maud's Holiday Blend Medium-Dark Roast Coffee Pods - 40 Pods
This limited edition holiday blend comes in a 40ct box and each pod comes with a festive holiday lid! 
Maud's Holiday Blend
 - Roast Profile: "Holiday In The House Of Clause Blend", has a unique earthy flavor with citrus and spice notes. A medium dark roasted coffee with low acidity, a thick body, and rustic floral flavors. Much of the flavor with a touch of holiday cheer comes from the Sumatra Coffee process known as the wet hull method. Our Holiday Blend Coffee Pods make perfect stocking stuffers and will serve as a great present wrapped neatly under the Christmas Tree.
Santa's Elves Are Rocking A Whole New Groove
- Tick Tock, time is ticking. But this year something is brewing. The elves of the North Pole should have no issues pumping out enough toys for all the kids this Christmas as Maud's Holiday Blend Medium Dark Roast Coffee fills their bellies with joyous energy. While your shopping for the special ones in your life, don't forget to treat yourself. Cheers from San Diego to the North Pole and wherever you might be, to the perfect holiday brew!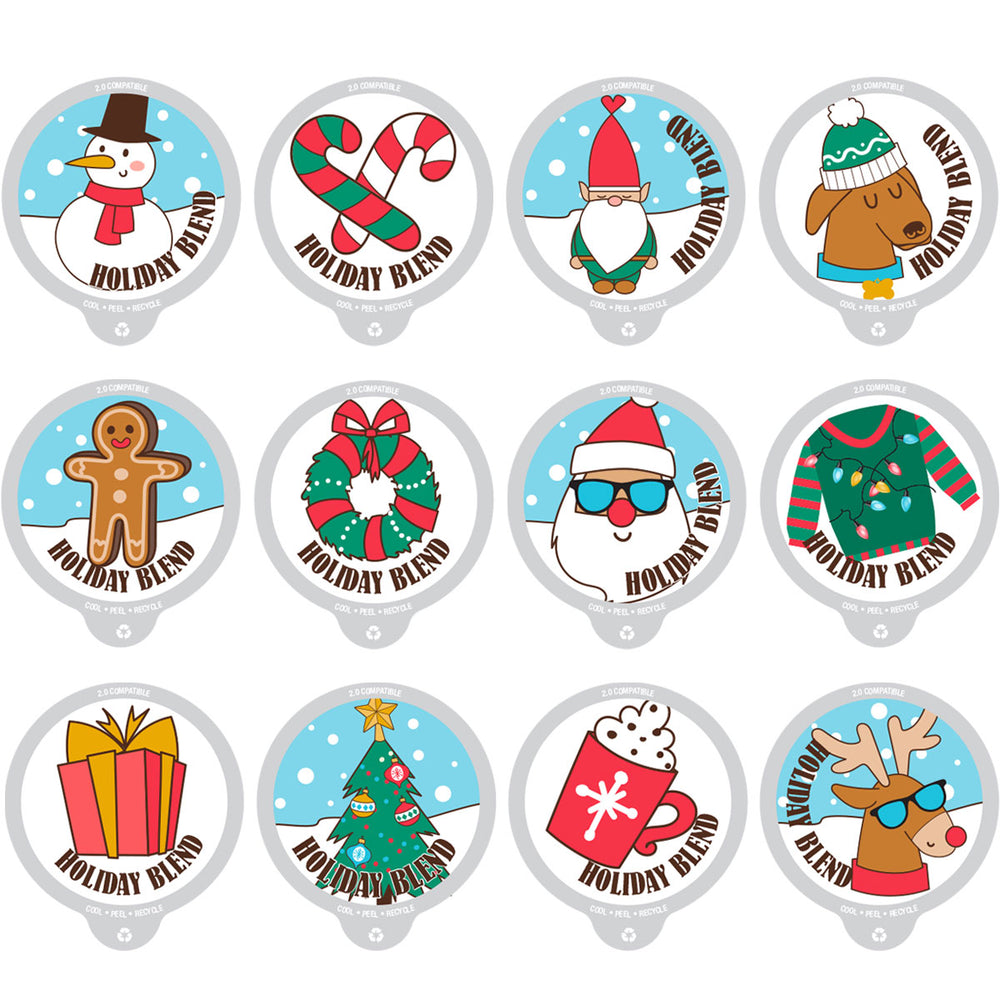 So Much to Love…
We Are Family
From our flagship Maud's Coffee & Tea line to our popular Roastmaster Reserve, Oriente Cuban and World's Best Half-Caff™ blends, our family of brands offers something special for every taste and every mood… every time.
Gourmet Coffee Pods
Gourmet 100% Arabica coffee beans are carefully roasted by our 5th Generation Roastmaster then packed into our Recyclable single-serve pods. Fresh ground coffee beans are nitrogen flushed, expelling all oxygen and sealing in the freshness to be enjoyed one great cup at a time!
BEVERAGES BACKED BY OVER 100,000 REVIEWS & MILLIONS OF HAPPY CUSTOMERS
Meet Your New Favorite Blends