Roast Type
Dark
-

Level

10

Maud's Brazil Alta Mogiana Italian Espresso Capsules
About
Maud's Brazil Alta Mogiana Italian Espresso Capsules
Maud's Brazil Alta Mogiana Italian Espresso Capsules
Best Enjoyed as a Lungo or Americano!
Tasting Notes: 
Brazil Alta Mogiana is rich bodied but not too heavy. It is relatively low in acidity, smooth and packed notes of cocoa and walnut notes. With a well balanced, mild, clean and short finish, this medium-full body has a creamy mouthfeel that is extremely tasty and interesting!
THIS PRODUCT IS ONLY COMPATIBLE WITH NESPRESSO® BREWERS. NOT FOR USE WITH KEURIG BREWERS. NESPRESSO® IS A REGISTERED TRADEMARK OF SOCIETE DES PRODUCITE NESTE S.A.
Save
Save
Brewer Compatibility
Pods work with:
K10 MINI Plus
K40/45 Elite
K60/K65 Special Edition
K70/K75/K79 Platinum
K200/K250
K300/K350
K400/K450/K460
K500/K550/K560
K140/K145
Mr.Coffee
iCoffee
Hamilton Beach

Click here to close
Check your local recyclability facilities to find out more, not recyclable in all communities.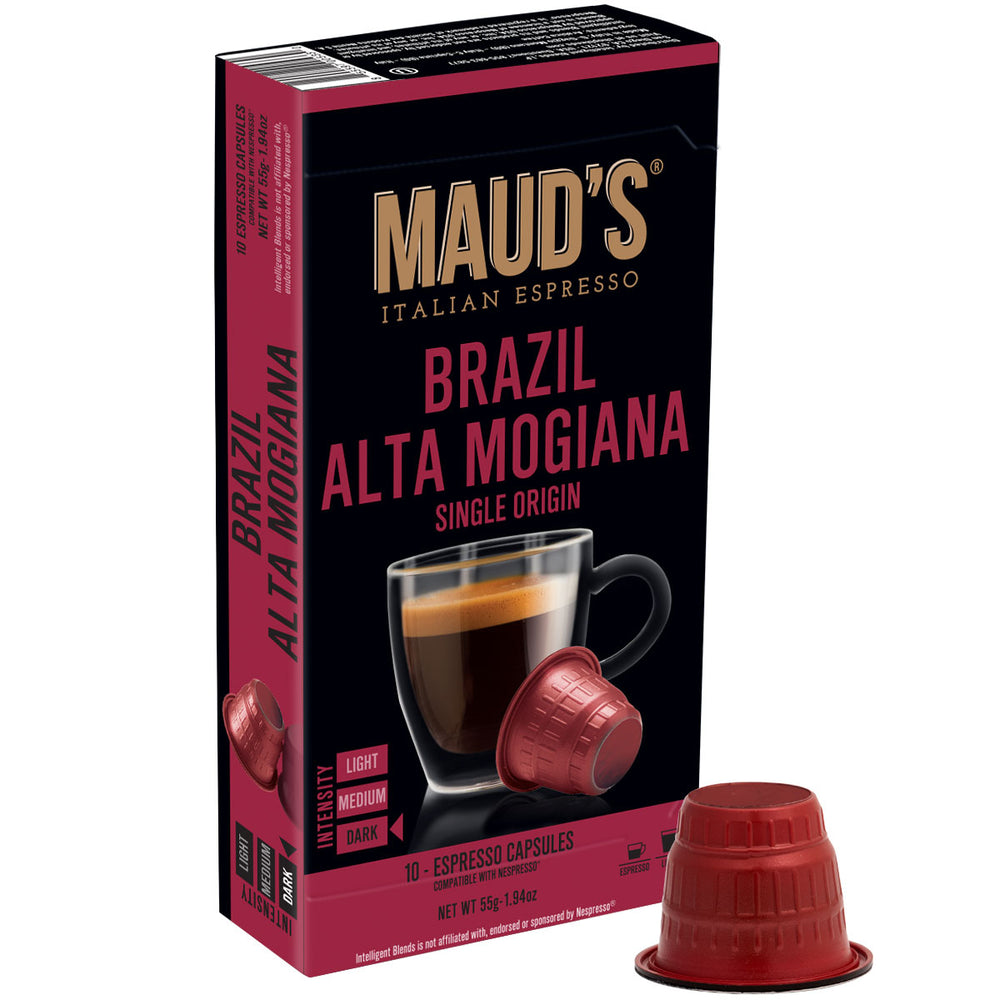 Gourmet Coffee Pods
Gourmet 100% Arabica coffee beans are carefully roasted by our 5th Generation Roastmaster then packed into our Recyclable single-serve pods. Fresh ground coffee beans are nitrogen flushed, expelling all oxygen and sealing in the freshness to be enjoyed one great cup at a time!
PROUDLY SERVING MILLIONS OF HAPPY CUSTOMERS